Hemiptera ... Leafhopper
When I saw the Water Strider post of @qwerrie a couple of days ago I knew I had seen such insects wandering over the water many times before, never thought of photographing them though.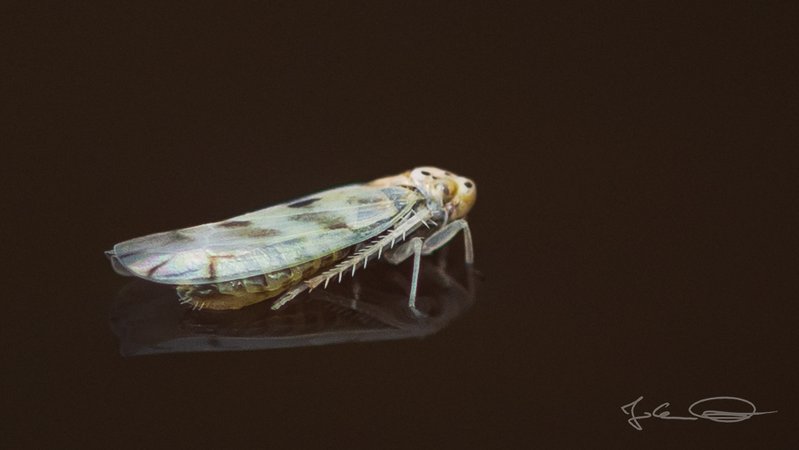 Details
It's my kids 18th birthday today. Now you may ask "why are you posting on such a day?" and you might also ask "what has this to do with the title 'Fighting Gods'?"
Well, from the early morning on they have had Well-wishers visiting us, mostly family. The answer to your first question would be "I take advantage of a little break while we wait for my niece who comes from Lower Austria to make some replies and a post".
She had to wait for the result of a Corona test she had to make because one of her colleagues was tested positive. Her test was negative, so she could head towards Carinthia. Today is her birthday too, so we will have 3 birthday kids at home today. Well, when you see this post it will be evening here and she will already be gone to her own family here in Carinthia.
On the right side you can see what I didn't see ;)

Details
... but to be honest, the Mantis has found me. I was looking at a flower at the side of the path at the Reservoir when I noticed a movement right in front of my feet, which obviously was the Mantis. Such a small thing - I would never have seen her in the grass if her green color had not been brighter than the green of the grass.
Details
We have had quite a few rainy and stormy days since last week, and this is how it all began...
Before the Storm
Stormy Weather
I have made these photos during a motorbike ride around town last week.
When I came back home from the ride a thunderstorm began shortly after and it was stormy and rainy until three days ago, when the sun finally won her fight against the clouds.
Details